Corbridge Garden Room, our story…
Hello and welcome, I'm Pat Wordsworth and I'm the owner of Corbridge Garden Room.

We are a family run business established in 2012 who specialise in gifts, home and garden ware. I have worked in the garden and gift industry for over 20 years and 5 years ago decided I'd like a new challenge, from there I grew Corbridge Garden Room. 5 years on my business has flourished, we have customers visiting from far and wide to view and buy our products from an ever increasing range of suppliers who promise to provide something for everyone! My Husband Paul, a Quantity Surveyor by trade keeps my books, and gives me all the do's and dont's accounts wise, you might see him in the shop every now and then usually playing solitaire on his computer while waiting for customers or telling me I can't hang anything from the ceiling!

We are situated in the heart of the Northumberland country side, in the picturesque village of Corbridge, right in the market place opposite the Church (Next to my morning coffee supplier, Tea and Tipple!). I'm sure you won't miss our green flowery front; if you do it's probably because a delivery van is parked in front of us!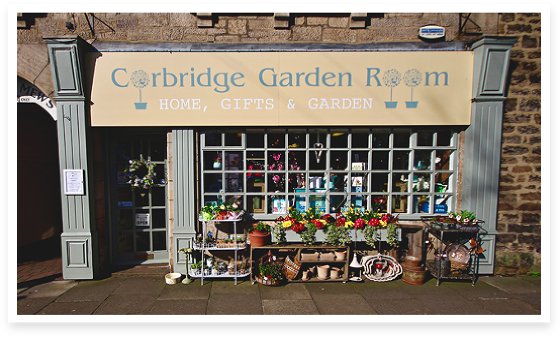 So if you're looking for a new cabinet, something for your garden or living room, you've come to the right place. We've even got a lovely selection of cards to accompany any gift you get from us, Ideal if it is a last minute anniversary gift, at least the wife can't accuse you of going to the petrol station!

You may have never seen our website or social media pages before and that's probably because until recently I've kept my online presence to a minimum - I'm old school and this tweeting malarkey is very new to me! It would be great if you could pop a review on our trip advisor or follow us on Twitter, Facebook & Instagram to keep up to date with what we are doing. Feel free to laugh at my posts as I'm still trying to work what's what on social media!

It would be great if you could pop in store to say hello the old fashioned way, I'm sure you won't be disappointed!

I hope to see you all soon

Pat


P.S. They say word of mouth is the best form of advertising, so here's what my customers think!